My Blog
Posts for tag: dentures
By Mesick Dental Center & Denture Care
May 15, 2018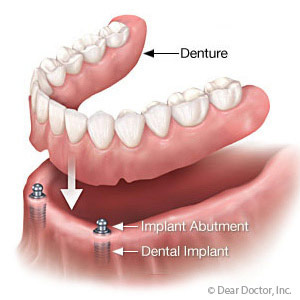 For generations, dentures have helped people avoid the dire consequences of total teeth loss. Now, implant technology is making them even better.
Composed of life-like prosthetic teeth fixed within a plastic or resin gum-colored base, dentures are manufactured to fit an individual patient's mouth for maximum fit, comfort and performance. But dentures also have a critical drawback—they can't stop bone loss in the jaw.
Bone is constantly regenerating as older cells dissolve and then are replaced by newer cells. In the jawbone, the forces generated when we chew travel through the teeth to the bone and help stimulate this new cell growth. When teeth are missing, though, the bone doesn't receive this stimulus and may not regenerate at a healthy rate, resulting in gradual bone loss.
Dentures can't transmit this chewing stimulus to the bone. In fact, the pressure they produce as they rest on top of the gums may actually accelerate bone loss. Over time then, a denture's once secure and comfortable fit becomes loose.
In the past, most patients with loose dentures have had them relined with new dental material to improve fit, or have new dentures created to conform to the changed contours of the jaws. But implant technology now offers another alternative.
Implants are in essence a tooth root replacement. Dentists surgically implant a titanium metal post directly into the jawbone that naturally attracts bone cells to grow and adhere to it over time (a process called osseointegration). This not only creates a secure and lasting hold, it can also stop or even reverse bone loss.
Most people know implants as single tooth replacements with a porcelain crown attached to the titanium post. But a few strategically placed implants can also support either removable or fixed dentures. Removable dentures (also called overdentures) usually need only 3 or 4 implants on the top jaw and 2 on the bottom jaw for support through built-in connectors in the dentures that attach to the implants. A fixed bridge may require 4-6 implants to which they are permanently attached.
There are pros and cons for each of these options and they're both more expensive than traditional dentures. In the long run, though, implant-supported dentures could be more beneficial for your bone health and hold their fit longer.
If you would like more information on implant-supported dental work, please contact us or schedule an appointment for a consultation.
By Mesick Dental Center & Denture Care
April 25, 2015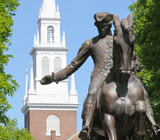 How much do you really know about Revolutionary War hero and famous disturber-of-the-peace Paul Revere? Take this quiz and find out! True or False:
Paul Revere cried "The British are coming!"
Paul Revere rode to Concord, Massachusetts.
Paul Revere practiced dentistry.
The first two answers are false: Revere, like most colonists, considered himself British at the time (but might have said "the regulars" are coming); and he never made it as far as Concord, though one of his midnight-riding companions did. The last statement, however, is true: When things got slow in his regular trade of silversmithing, Revere hung out a shingle to broadcast his skills as a dentist.
"Paul Revere can fix [teeth] as well as any surgeon dentist who ever came from London, he fixes [dentures] in such a manner that they are not only an ornament but of real use in speaking and eating," his advertisement in a Boston newspaper is supposed to have read. Revere specialized in fitting dentures made of metal and walrus ivory in his patient's mouths. (There is no record, however, that he ever worked on George Washington's false teeth.)
The practice of dentistry has come a long way since 1776. But the ideal set of dentures — one that's both aesthetically pleasing and fully functional — remains a valid goal today. But now, instead of going to a metalworker, you'll visit a denture specialist: your dentist.
We understand that dentures need to have a perfect, comfortable fit so they can do their work. That's why we take the time to make an individual mold of your mouth as the first step of the process. Then we choose prosthetic teeth in the shape, size and shade that's right for you. When everything is satisfactory, the dentures will be custom-fabricated in a dental laboratory using high-quality materials that are lifelike and durable. Finally, we will make sure that your new dentures look, feel and function the way they should.
If you have older dentures that no longer fit as they should, come in to our office for a check-up. It's sometimes possible to repair or re-line dentures; in other cases, it's best to have a new set made. Ill-fitting dentures aren't just uncomfortable — they can also lead to oral infections and nutritional difficulties.
For more information about dentures or denture repair, please contact our office to schedule a consultation. You can learn more in the Dear Doctor magazine articles "Loose Dentures" and "Removable Full Dentures."