My Blog
Posts for: November, 2021
By Mesick Dental Center & Denture Care
November 16, 2021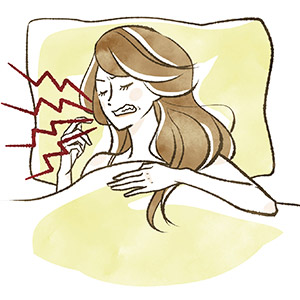 We like to think we're more prone to stress in our modern, fast-paced world than those who lived in "simpler" times, but a finding from the recent discovery of Richard the III's remains in England suggests differently. Investigators noted the king had well-worn teeth, perhaps from grinding them out of stress.
We can't be sure this was the cause for the king's dental problems, or if teeth grinding was common in the 15th Century. But we are sure the problem exists today among adults.
Tooth grinding is the grinding, gnashing or clenching of teeth involuntarily when not engaged in regular dental functions like eating or speaking. It can occur while a person is awake, but most often while they're asleep.
The habit regularly occurs in children, but is not considered a major problem as most outgrow it by adolescence, usually with no lingering damage. Not so with adults: Because the habit generates abnormally high biting forces, teeth grinding can lead to accelerated tooth wear. It can also weaken teeth, making them more susceptible to fracture or disease.
People who grind their teeth will typically awaken with sore jaws or the complaints of family members about the loud chattering noise emitted during an episode. If you suspect a problem, you should see your dentist for a definitive diagnosis, and to learn how to reduce its occurrence and effects.
Treatments for the habit vary depending on underlying causes. They may involve lifestyle changes like quitting tobacco, limiting alcohol or altering your use of certain drugs or medications.  Because stress is often a major factor, learning better relaxation techniques through meditation, group therapy or biofeedback may also help reduce teeth grinding.
These treatments, though, can take time, so you may also need ways to minimize the effects of the habit in the meantime. One of those ways is for your dentist to create an occlusal guard that you wear while you sleep. The guard prevents the teeth from making solid contact, thus reducing the potential biting forces.
It's important, then, to see your dentist as soon as possible if you suspect you're grinding your teeth. Finding out as early as possible and then taking positive steps to stop or reduce its effect can save your teeth from a good deal of harm.
If you would like more information on teeth grinding, please contact us or schedule an appointment for a consultation. You can also learn more about this topic by reading the Dear Doctor magazine article "Teeth Grinding."
By Mesick Dental Center & Denture Care
November 06, 2021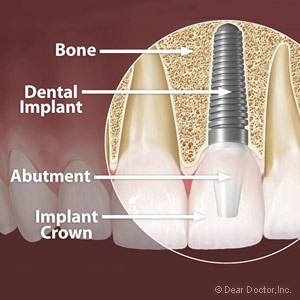 Patients and dentists alike love dental implants. For one, they're unique among other dental restorations because they replace the tooth root as well as the visible crown. It's actually their role as a root replacement that makes them so durable and lifelike.
But it still falls to the dentist to create as natural an appearance as possible through proper implant placement. It requires extensive technical skill and artistry to surgically place an implant in the precise location inside the jawbone to gain the best outcome. It's even more critical when the tooth is a highly visible one within the "smile zone"—the teeth others see when we smile.
With a patient's smile appearance on the line, it's important that we carefully consider a number of factors that can impact implant success and address them as needed in our treatment plan.
The gums. The gums are to the teeth as a frame is to a masterpiece painting. If the gums don't correctly cover the new implant, the final outcome won't look natural. Positioning the implant precisely helps ensure the gums look attractive. It may also be necessary to augment the gums, such as grafting surgery to encourage growth of lost gum tissue, to achieve the most lifelike result.
The socket. For simple extractions (as opposed to surgical removals), a dentist deftly manipulates the ligament holding the tooth in place to loosen and remove it. It's important to do this carefully—if the tooth's bony socket becomes damaged in the process (or because of other trauma), it can complicate implant placement in the future.
The supporting bone. Likewise, the bone in which the implant is imbedded must be reasonably healthy and of adequate volume. Besides not providing enough support, inadequate bone also makes it difficult to place an implant for the most attractive result. Bone grafting at the time of extraction minimizes bone shrinkage. If bone shrinkage had occurred, the Inadequate bone may require grafting, particularly if there is a lag time between extraction and implantation. In extreme cases, though, a patient may need to choose a different restoration.
The usual process for implants—planning, surgical placement and the healing period after surgery—can take time. Paying attention to these and other factors will help ensure that time and the effort put into this process has a satisfying outcome—an attractive, natural and long lasting smile.
If you would like more information on dental implants, please contact us or schedule an appointment for a consultation. You can also learn more about this topic by reading the Dear Doctor magazine article "Immediate Dental Implants."