My Blog
Posts for: November, 2017
By Mesick Dental Center & Denture Care
November 23, 2017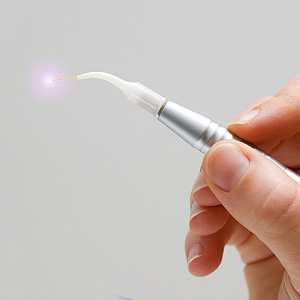 Periodontal (gum) disease is potentially devastating to your teeth, gums and bone. To fight it we have to remove the substance that causes and sustains the disease from all oral surfaces — a thin layer of bacteria and food particles known as plaque.
To accomplish this task, we use a variety of hand instruments called scalers to mechanically remove plaque and calculus (hardened plaque deposits), as well as ultrasonic equipment to vibrate plaque loose and flush it away with water. If we detect plaque deposits well below the gum line and around the tooth roots, we may need to use other techniques like root planing or surgery to access these deeper areas.
 While gum disease is persistent and aggressive, these traditional techniques have proven quite effective in controlling the infection and restoring health to diseased gums. Yet like other aspects of medicine and dentistry, technological advances have created a new option for gum disease treatment: the Nd:YAG laser.
The Nd:YAG laser is named for the crystal it uses to produce a narrow and intense beam of light on a specific frequency. In recent years it's become an important surgical tool because it can distinguish between diseased and healthy tissue, destroying the former while not affecting the latter. It's being used now on a limited basis for treating gum disease, especially for removing infected tissue in deep pockets that can form below the gum line, and for removing plaque and calculus from root surfaces.
 Because of its precision, early evidence of effectiveness is encouraging: minimal tissue damage and swelling, less bleeding and reduced patient discomfort after treatment. The heat from the laser has also been shown to kill bacteria and essentially sterilize the area.
Still, the findings aren't conclusive enough as to whether lasers are superior in most circumstances to traditional scaling methods. For the time being, we'll continue to use the tried and true methods for removing plaque and calculus. But as laser technology advances, the time may come when this new approach to gum disease treatment will become a more prominent and beneficial option for patients.
If you would like more information on your treatment options for gum disease, please contact us or schedule an appointment for a consultation. You can also learn more about this topic by reading the Dear Doctor magazine article "Lasers Versus Traditional Cleanings for Treating Gum Disease."
By Mesick Dental Center & Denture Care
November 08, 2017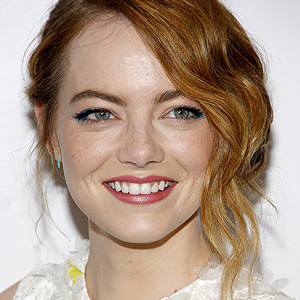 It's no secret that many of Hollywood's brightest stars didn't start out with perfectly aligned, pearly-white teeth. And these days, plenty of celebs are willing to share their stories, showing how dentists help those megawatt smiles shine. In a recent interview with W magazine, Emma Stone, the stunning 28-year-old star of critically-acclaimed films like La La Land and Birdman, explained how orthodontic appliances helped her overcome problems caused by a harmful habit: persistent thumb sucking in childhood.
"I sucked my thumb until I was 11 years old," she admitted, mischievously adding "It's still so soothing to do it." Although it may have been comforting, the habit spelled trouble for her bite. "The roof of my mouth is so high-pitched that I had this huge overbite," she said. "I got this gate when I was in second grade… I had braces, and then they put a gate."
While her technical terminology isn't quite accurate, Stone is referring to a type of appliance worn in the mouth which dentists call a "tongue crib" or "thumb/finger appliance." The purpose of these devices is to stop children from engaging in "parafunctional habits" — that is, behaviors like thumb sucking or tongue thrusting, which are unrelated to the normal function of the mouth and can cause serious bite problems. (Other parafunctional habits include nail biting, pencil chewing and teeth grinding.)
When kids develop the habit of regularly pushing the tongue against the front teeth (tongue thrusting) or sucking on an object placed inside the mouth (thumb sucking), the behavior can cause the front teeth to be pushed out of alignment. When the top teeth move forward, the condition is commonly referred to as an overbite. In some cases a more serious situation called an "open bite" may develop, which can be difficult to correct. Here, the top and bottom front teeth do not meet or overlap when the mouth is closed; instead, a vertical gap is left in between.
Orthodontic appliances are often recommended to stop harmful oral habits from causing further misalignment. Most appliances are designed with a block (or gate) that prevents the tongue or finger from pushing on the teeth; this is what the actress mentioned. Normally, when the appliance is worn for a period of months it can be expected to modify the child's behavior. Once the habit has been broken, other appliances like traditional braces or clear aligners can be used to bring the teeth into better alignment.
But in Stone's case, things didn't go so smoothly. "I'd take the gate down and suck my thumb underneath the mouth appliance," she admitted, "because I was totally ignoring the rule to not suck your thumb while you're trying to straighten out your teeth." That rule-breaking ended up costing the aspiring star lots of time: she spent a total of 7 years wearing braces.
Fortunately, things worked out for the best for Emma Stone: She now has a brilliant smile and a stellar career — plus a shiny new Golden Globe award! Does your child have a thumb sucking problem or another harmful oral habit? For more information about how to correct it, please contact us or schedule an appointment for a consultation. You can learn more in the Dear Doctor magazine article "How Thumb Sucking Affects the Bite."